Bac Son valley, is the destination worth the trip?
2
We told you in our previous post (2015 travel trends across Vietnam) about Bac Son valley and its "incredible mountainous scenery populated by Tay people". Well, the Handspan team went on an inspection there and reveals to you the results of its exploration.
Vietnam offers a large array of destinations of all kinds. The potential of the country is such that there is almost an ideal destination for everyone. You may be looking for jungle, seaside, mountains, rural or semi-rural deltas, ancient architecture, adventure in big outdoors, culture in its whole, giant caves and extraordinary natural heritage; Vietnam has almost it all. And if every traveler would find his paradise in Vietnam, we could also say that every destination would find a traveler to please. Now the questions are Bac Son, for who? How? And why?
Bac Son left us a strange impression. We can feel that from the district of Huu Lien (about 30km South of Bac Son) to this impressive valley, the potential for tourism is huge. We are not too far from Hanoi, access is easy, and landscapes are stunning. But in the other hand, the current lack of tourism facilities, and the rural-in-urban-development-process atmosphere makes it a bit less attractive.
To illustrate the lack of tourism facilities we show you below one of the pictures that started making the fame of Bac Son. This view is only accessible to people 1)very fit and adventurous and 2) ready to negotiate with a guardian to climb up on top of an antenna at the edge of a mount. Basically, very few people would really have the view.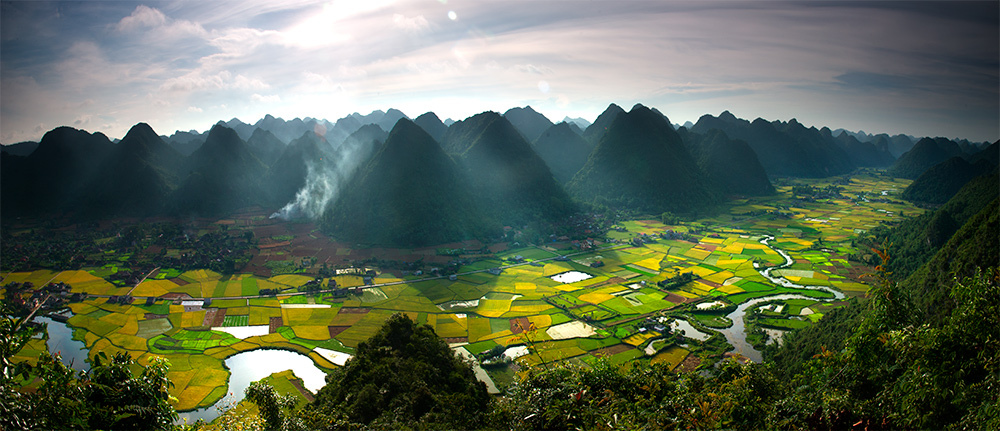 When it comes to rural-in-urban-development-process atmosphere, we can mention the nice trails getting covered by concrete, the brick houses replacing the wooden houses on stilts, the ethic people (Tay people) pretty much assimilated to the Kinh culture. Bac Son is for example not as charming as a place like Mai Chau or the nature reserves of Ngoc Son Ngo Luong and Pu Luong.
But hold on, Bac Son remains a beautiful place, inhabited by nice and friendly people and featuring some ancestral crafts (traditional roof tiles making for example). You can stay overnight in a welcoming homestay and walk or cycle around (if you take your bike from Hanoi).
To conclude, Bac Son can be an amazing destination for one's looking to make a short mountain biking trip from Hanoi. It should also absolutely replace Lang Son or That Khe as the last overnight stop on any East loop passing by Ba Be and Cao Bang. But we do not recommend a simple 2- or 3-day trip to that single destination if you're simply looking for landscape and average walk around.
To know more about Bac Son valley, feel free to contact us via email through info@handspan.com